Next, we visited Ichiro Miyauchi - a man who has been running a citrus plantation for many years in the birthplace of the Miyauchi Iyokan, Hirata. The time of our visit in December was the very peak of harvest season! We asked him about his thoughts on Iyokan farming while gazing out at the branches heavily laden with ripe, orange-colored fruit.
A Challenge-Loving Farmer Who Even Works to Cultivate New Varieties.
Mr. Miyauchi followed his late father's path and entered the world of citrus farming. "I studied engineering, so I didn't know anything at all about farming. I gathered the necessary know-how and skills slowly but surely through hands-on experience," he comments. After becoming a producer of the fruit himself, he has also begun actively working hard to implement new cultivation techniques, such as his prompt installation of sprinklers in the orchard. The number of citrus varieties he cultivates has grown steadily over the past 10 years, and he now has around 3 hectares of cultivated land growing 11 total varieties of citrus, including the "Miyauchi Iyokan," "Beni Madonna," "Kanpei," and "Kara Mandarin" varieties.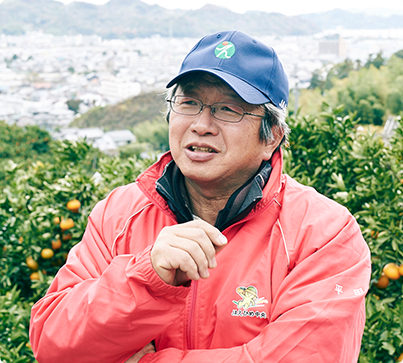 With an Ample Amount of Time and Effort: Affectionately Cultivated Iyokans Have a Truly Amazing Flavor.
We first noticed that the steep slant of the ground in the fields was quite surprising! "Land on the ocean side with plenty of sunlight and slopes making for good drainage is the best for citrus production," explains Mr. Miyauchi. The fact that the growth and flavors of the fruit can change slightly depending on climate, even with perfect land conditions, is one of the difficult points of working with nature. "Not being able to predict how the fruit will turn out is a difficult point, but it is also very interesting. I get to feel like a newcomer to cultivation every year."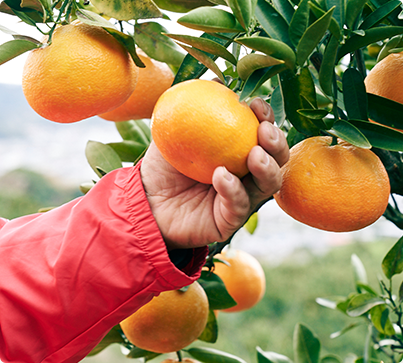 Finally, when we asked what the best part of Iyokan cultivation was for him, he smiled and replied, "I'd have to say it's the feeling I get when I get the harvest safely sent off to market." It is truly a difficult task to continually produce high quality Iyokan fruit in an environment which changes daily. He also mentioned that the color and flavor of the fruit can change based on how long it is stored after harvest, so farmers can't let their guard down right after harvest either. "That's why I feel especially thrilled when I'm able to send off a shipment of deeply-colored Iyokan fruit," he added.